Two thirds of 2022 gone – what have I done and where have I been?
The year got off to a predictable slow start as do most years in regards to our hobby (Spotting).
On Tuesday 1st February I walked about half a kilometre from home to a main road that runs past the development where I live in order to see a pre-planned flypast by two B-1B Lancer bombers from the 28th Bomb Wing, 34th Bomb Squadron from Ellsworth AFB South Dakota (SD) overflying the American Air Museum located at the Imperial War Museum, Duxford, Cambridgeshire. The two B-1B's were supposed to be accompanied by two F-15E Strike Eagles of the 48th FW 492nd & 494th FS from RAF Lakenheath, Suffolk and two F-35B Lightnings from RAF Marham, Norfolk. As it turned out there was only a single B-1B, one F-35B Lightning which had the F-15E Strike Eagles on it's port & starboard wings. There was also a photo-ship which was a Hawk T.1 from 100 Sqn from RAF Leeming, North Yorkshire. The fly-past was to commemorate the 80th anniversary of the formation of the 8th Air Force in Europe. Having passed my location they did a fairly tight right turn that would take them over the American Cemetery and Memorial at Maddingly, just to the north west of Cambridge.
I later learnt that three B-1B's had taken off from Ellsworth SD, the third was classed as the "air spare" and returned to base once they reached the eastern US seaboard. The other two were then to cross the Atlantic Ocean and perform the flypast of the Imperial War Museum / American Air Museum at Duxford before turning for Maddingly then setting course to cross back to the USA. However all did not go to plan and one of the two remaining B-1B's developed a technical problem prior to reaching the "point of no return" and it too returned to its home base. Thus the lone B-1B continued to England to make the flypast.
However I am told that there should of been two RAF F-35B Lightnings in the fly-past but due to one going tech just prior to its departure from RAF Marham just the one joined the formation close to RAF Lakenheath.
When I returned home I felt very unwell, no not disappointment! I contacted our Health system and was instructed by them to attend the Urgent Treatment Clinic later that day. I did so and after six hours of tests and an ECG I was discharged. The following morning I felt exactly the same, once again following a call to my GP / Doctor I was advised to go to the Emergency Department (ED / ER) of my regional hospital. After ten hours of further tests I was admitted to hospital with a suspected gastric bleed. Ten days later I was discharged from there as despite an Endoscopy & Colonoscopy they were unable to find the bleed and thus it appeared that the bleed had healed itself in the time I was in the hospital.
If anything for me the year didn't really start until the second week of March with a visit to RAF Lakenheath, Suffolk to see thirteen (13) Aviano [AV] (Italy) based USAF(E) [Untied States Air Force (Europe)] F-16 Fighting Falcons / Vipers from the 510th Fighter Squadron (FS), 31st Fighter Wing (FW) most of which in Aviation enthusiast terms I "made" in that I had not seen them before.
A visit to RAF Mildenhall on the same date I saw one of the oldest flying examples of the WC-135W (serial 61-2667 coded OF) from the 45th Reconnaissence Squadron from Offutt AFB NE, USA. The W prefix denotes that this is for Weather reconnaissance, the C-135 denotes that this is based on the Boeing model 135 [Boeing 707 airframe] normally associated with the KC-135 refueling tankers stationed at RAF Mildenhall.
My next trip away from home was later in the month when with a good friend named Andy we went to spend a couple of hours at Wattisham Army Camp, Suffolk in the hope of seeing some of the newly delivered Boeing AH-64E Apaches. Although there were several "on the line" we could only positively identify one of this number as it flew using the callsign Ugly 1 which we identified via its HEX code as ZM706
In May Newark Air Museum was next on the list to visit, this time with my good friend Graham, we had a very pleasurable few hours at the Museum including a late lunch and afternoon tea or in my case coffee. It had been nearly twenty (20) years since I had been inside the museum and I was pleasantly surprised to see so many new exhibits added to the collection. A few days after the visit to Newark Air Museum I was back at RAF Mildenhall to see six Boeing F-15QA Eagles on delivery from St Louis MO to the Qatari AF staging through this base.
My next adventure took me to MoD Boscombe Down, in Wiltshire to see and photograph three C-130 Hercules comprised of two C-130J and one C-130H from the Republic of Korea AF (RoKAF) that had bought the support equipment required by the RoKAF Black Eagles display team flying their KAI T-50 aircraft. I and many thousand of others were to see the KAI T-50 aircraft a few weeks later!
Lockheed C-130H Hercules serial 55-036 of RoK AF
Lockheed C-130J Hercules serial 35-730 of RoK AF
Boscombe it was a fairly long and winding trip to RAF Brize Norton, Oxfordshire to see the prize that was a Royal New Zealand AF C-130H Hercules that was in Europe in support of the Ukrainian conflict with Russia.
This is a Lockheed C-130H of the Royal New Zealand AF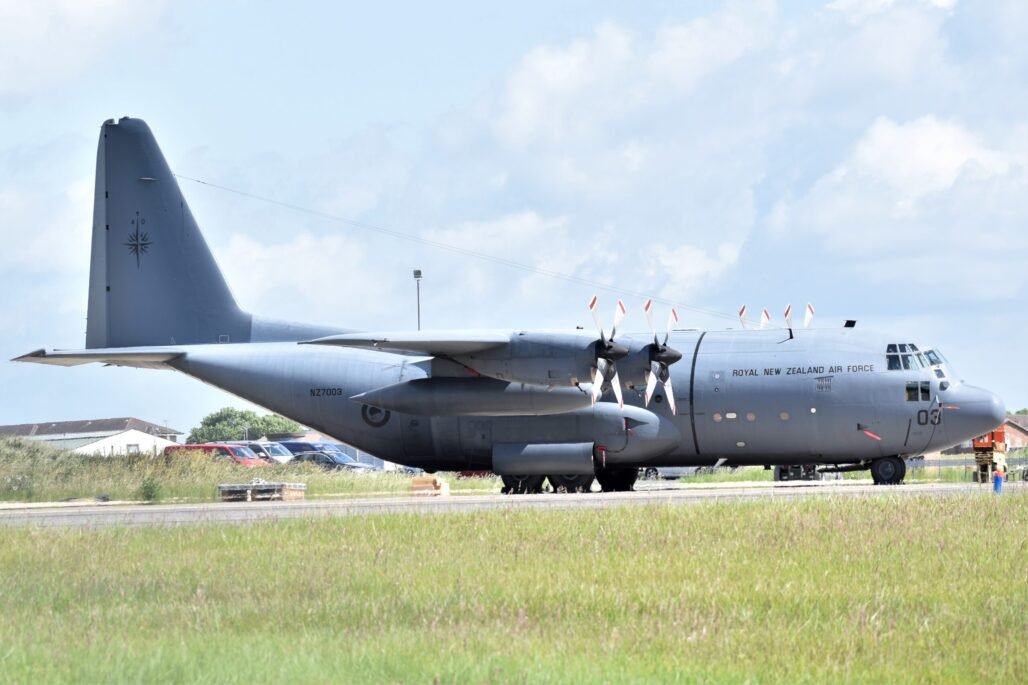 July: A couple of weeks later I was back at  RAF Lakenheath hoping to see and "make" some of the newly delivered Lockheed-Martin F-35A Lightning II's assigned to the 48th Fighter Wing 495th Fighter Squadron. I came away with having seen five that I had not seen previously so I was very happy with the hours I'd spent there that day. Two days later I was back at RAF Mildenhall to witness four more F-15QA's destined for the Qatari AF. 
Just five days later  I was travelling again with Andy & Graham this time heading back to RAF Brize Norton in search of a rather elusive Airbus A400M serial ZM410. Alas today was not to be my lucky day, I learnt later that it had been hangared for some time and was being used as a spares source to keep other A400M's flying. From Brize Norton we headed further south towards Marlborough where we were going to night stop.
Saturday 16th we departed the hotel at 05:00 and made our way towards RAF Fairford the base for the Royal International Air Tattoo (RIAT) which hadn't been held since 2019 before the CoVid pandemic hit the World. To say the three of us had a great day was probably an understatement, also meeting friends we hadn't seen for those three intervening years made it a rather special day. Just for a change we decided to leave early from the show, at 16:30 we left and continued back towards my home first and then Graham and Andy their respective homes. I think the highlight of the show this year had to be the display by the RoKAF Black Eagles in the KAI T-50's which was spectacular!
One of nine KAI T-50's of the RoK AF Black Eagles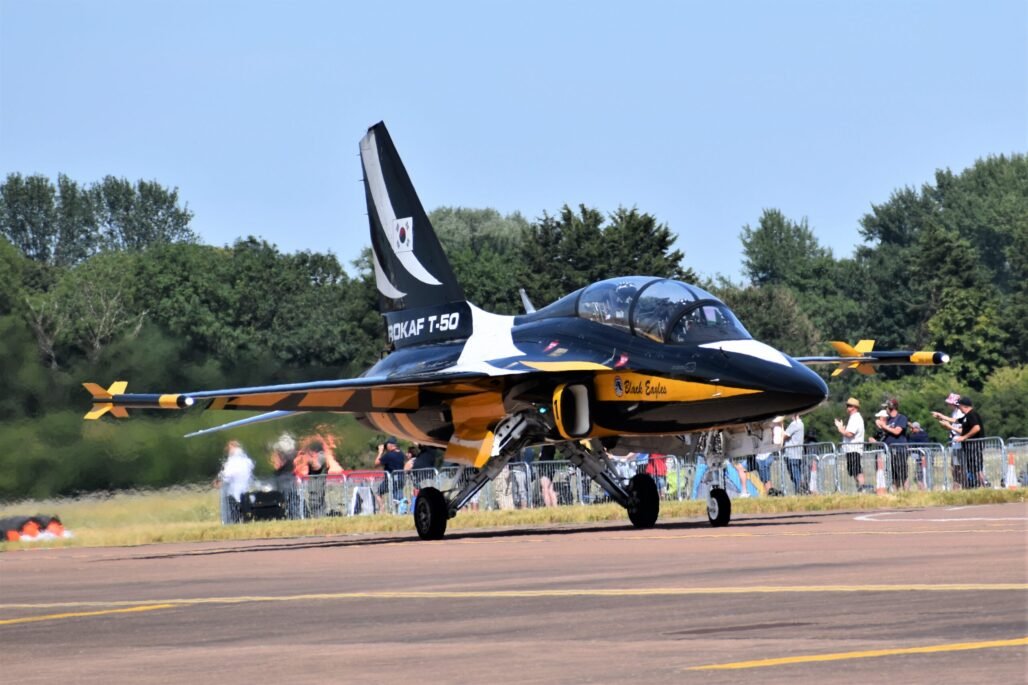 Sunday 24th I was alerted that there was a Spanish AF Airbus A-330 MRTT serial T-24.02 had lifted from RAF Lakenheath and was travelling south west towards Spain. A quick cross check with globe.adsbexchange.com confirmed the track from RAF Lakenheath would put the aircraft in visual range from my home, from my position in the front bedroom I was able to clearly identify the aircraft as it continued to climb towards the southwest.
Two days later I was once again back at RAF Lakenheath in the hope of seeing more of the 48th Fighter Wing Lockheed-Martin F-35A Lightning II's and to witness the arrival of six Lockheed-Martin F-22A Raptors from the 3rd Wing 90th Fighter Squadron from joint base Elmendorf-Richardson, Alaska [AK], yet again I wasn't disappointed completing the recently delivered F-35A's to the 48th FW [more are due in the next few weeks] and seeing and photographing the Alaskan based F-22A Raptors. However on that day there should have been twelve of the Raptors passing through RAF Lakenheath, but alas only the six made it. Two days later though word reached me that the delivery of the other six were "on their way".
Thursday 28th July: first stop was at RAF Mildenhall to see the very recently delivered Boeing AH-64E's destined for the Army Air Corps, initially at Wattisham Camp, Suffolk. The three Apaches had been delivered from Mesa AZ USA in a USAF C-5M Galaxy serial 86-0013 as RCH 181 [RCH is the shortened version of Reach used by USAF transport aircraft such as the C-5M]
After a very long day on my own at Lakenheath, the six L-M F-22A's from Alaska finally turned up just as it was turning to dusk, a very satisfying end to the day.
For the next couple of weeks I didn't go anywhere, however on the morning of Tuesday 23rd of August I received a phone call to say that a Greek Government Grumman Gulfstream IV of the Greek Government was approaching a radio beacon *VOR near to where I live, thankfully it was a lovely clear morning and the aircraft was clearly visible using optics to see it ahead of its condensation trail.
Later that same morning having watched a USMC Lockheed KC-130J [169228] first of all on virtual radar (globe.adsbexchange.com) I was able very clearly to see it turn and descend towards my home as it began to make its approach to Cambridge airport.
Two days later found me and three friends leave my home at 04:00 for a very long journey to the British Aerospace Systems aerodrome at Warton Lancashire, approximately mid-way between Preston & Blackpool. Our aim was to see four BAeS Typhoons of the Qatari AF leave Warton bound for what we now know to be Greece as a destination for a night-stop then travelling on to Qatar the following day. We arrived around 08:00, we had information that they were due to leave at 10:00 that morning. Three eventually departed at 11:00 and we departed within a few minutes of their departure for the long drive back.
The first three Qatari AF Typhoons to leave; QA404, 405 & 407
On the 30th together with three others we travelled once again to Warton Aerodrome; one of the three that had taken off the week previously had returned to Warton as it was unable to refuel in flight. On arrival we were delighted to see both it and another that we hadn't seen previously out on the flight pan – mission accomplished.
Next stop was after a two and half hour drive across the Pennines to RAF Leeming where an air exercise was being held. It is also where Qatari AF pilots are being trained to fly the BAeS Hawk T.2 by 11 Squadron RAF. Within a few minutes three "new" to me Hawks had been identified as well as two that I had seen previously at RIAT back in July. Also present were three HH-60G Helicopters from their home base of Aviano in Italy, three RAF Chinook HC.6, three Army Air Corps AH-64D Apaches. Also there was one A400M Atlas a C-17A Globemaster III and a lone C-130J Hercules all from the RAF at Brize Norton, Oxfordshire. Soon it was time to push on to our next destination.
The next stop was a parachute school at a location called Hibaldstow, Lincolnshire. Our quest here was to try and see what we believed to be a "couple" of ex-Kenyan AF Dornier Do.28-D2's that were being refurbished to act as parachutist carrying aircraft. Luck was once again on our side, not only did we saw a "couple" was saw a total of eight in one form or another and we were shown a Harvard and Beagle Terrier by a very enthusiastic member of their maintenance team, we are indeed indebted to him.
Pushing on to our next and final stop of the day was at RAF Waddington, Lincolnshire, our objective here was to see the freshly arrived EF2000 Typhoons of the Italian AF (AMI) and the AMI GAC Gulfstream E550A# CAEW. We had been led to believe that there would be six of the EF2000's but two were delayed leaving Italy. Of the four seen I only "made" two, still two is better than none!  The Italian AF (AMI) have two of the GAC Gulfstream E550A's and alas I had previously seen this one.
September: On the 2nd I was given advanced warning of a Turkish Police Sikorsky S-92A helicopter flying near to my location, by using virtual radar and estimating where a certain VOR is I was able to see this aircraft (helicopter) returning to London-Stansted airport [EGSS]. The registration given to this aircraft was new to me, however when I looked up it's details it had been reregistered from EM003 to TCCB3 and yes you've guessed I'd see it before. By way of explanation this helicopter was on an air test from London-Stansted where it had been maintained and possibly received upgrades to its avionics etc. The three S-92A helicopters that the Turkish Police use are flown to and from their operating to London-Stansted. We know that this is accomplished over several stages and days with quite a few refueling and night stops on the journeys.
The following day I made my way to RAF Mildenhall in order to see two United Sates Navy [USN] Boeing P-8A Poseidon's from BUPERS SDC Dallas NAS/Joint Base TX USA, mission accomplished I returned to home.    
Legend:
* VOR = Very high frequency Omni-directional Radio beacon
# This aircraft is based on the GAC Gulfstream V airframe with numerous additions / alterations to the airframe